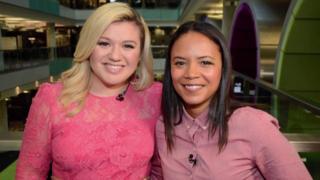 Singer Kelly Clarkson chats to Newsround
Long before X Factor and The Voice dominated TV there was another big talent show making headlines in the United States.
Kelly Clarkson was the winner of the first ever American Idol, back in 2002.
13 years later the singer and songwriter is still recording pop hits.
She told Newsround reporter Leah she didn't always dream of being a star.
Kelly said: "When I was ten I had no idea what I wanted to do. When I was 13 people started telling me I was good at singing."
She auditioned for American Idol and was an instant hit with audiences all over the world.
She said: "Pop Idol had started in the UK and nobody had heard of that in the United States... I was just auditioning like every other audition I would go to."
"Nobody really thought it would come to fruition, like any career would come out of it. 13 years later I'm still doing it."