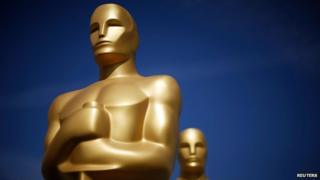 Reuters
The nominees are being preened, the red carpet is being rolled out and Hollywood is preparing for its starriest night of the year.
The 87th Oscars take place on Sunday night and the prize is the much coveted golden statue known as the Academy Award of Merit.
What was your award-winning moment?
The best award I have been given was my anti-bulling award from David Cameron!
Britanne
I think I should have an Oscar because I swam 200 lengths in a hour for my swimming team.
Kaysia, Wales
I should get an award for the longest hair.
Laura, York
I think I should get an award for being brave enough to sing a solo and play recorder solos in our Christmas concert and in front of the school.
Sarah, Manchester
I think I should get an award as I am not the best at netball and I don't usually play matches outside of lessons but before half-term I played against another school and my team won!
Zahra, London
I think I should win an award for cutting of my hair for charity.
Catherine
I dived off the three metre board at my diving class. It was the first time I did it after taking up diving a year ago!
Maise
Thanks for sending us your comments. This chat page has now closed.