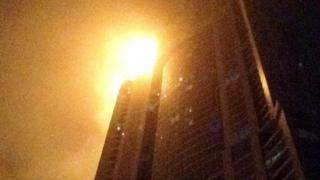 Fire damages skyscraper in Dubai
A fire has damaged one of the tallest residential skyscrapers in the world.
The building is nicknamed the Torch and can be found in the city of Dubai in the United Arab Emirates, in the Middle East.
The tower caught fire during the night and it took 12 fire engines to put out the flames.
The building was evacuated and 2,000 people were led to safety.
Luckily nobody was badly injured.
The people who live in the tower have been told it could be days before they can go home.