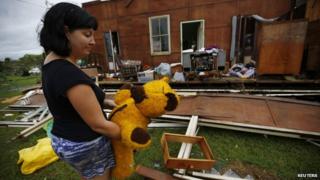 Two cyclones batter Australia
Thousands of people in Australia face a big clean-up operation after the country was hit by not one, but two powerful storms called cyclones yesterday.
Cyclone Marcia hit land near the tourist town of Yeppoon, in the state of Queensland, where it tore roofs off homes.
About 870 homes were evacuated because of storm surges, according to Queensland emergency authorities.
Dozens more have taken shelter in the safest places in their houses.
Separately, Tropical Cyclone Lam hit the Northern Territory causing many similar problems there.
The winds have died down now but they've left power lines down and some roads have been blocked by fallen trees.
Elsewhere, Cyclone Lam caused damage in the Northern Territory.
Watch more Newsround videos