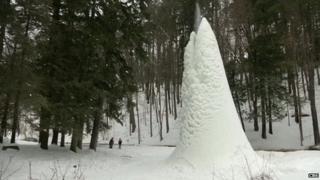 Huge 'ice fountain' draws big crowds
A huge ice fountain has formed in a New York park, as freezing cold weather continues to grip the eastern half of America.
Letchworth State Park's fountain runs year-round from a stream, but has been encased in ice as temperatures continue to plummet.
The icy formation - 15.24 metres tall is continuing to draw big crowds.
Park staff think it could grow even bigger.
Temperatures are 20-40F below normal for February.
They've come in from the Mid-Atlantic to the South.