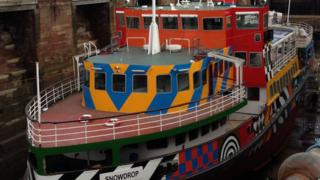 Mersey Ferry gets ''dazzled''
This Mersey Ferry has been ''dazzled'' to commemorate centenary of WW1.
Dazzling is not like traditions forms of camouflage, that aim to hide from an enemy.
Dazzle works by baffling the eye. The bright colours and geometric lines make it difficult to work out a possible target's range, speed and direction.
The multi-coloured pattern used here has been designed by British pop artist Sir Peter Blake.
It's being painted by staff at the Cammell Laird shipyard in Birkenhead.
The Snowdrop will be the the only operating Dazzle Ship in the UK.
See how dazzling was used in WW1 and hear from staff at the Cammell Laird shipyard who painted the ship.
It will run from the end of March for two years.
During WW1 each ship's unique dazzle pattern was made up of a mix of black and white and bright colours to avoid making classes of ships instantly recognisable to enemy boats and aircraft.
There'll also be an exhibition on board explaining the history of dazzling during the First World War.