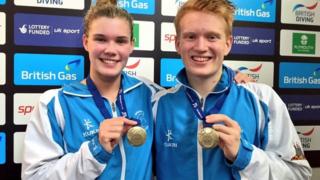 GB history for mixed diving pair
Scottish divers Grace Reid and James Heatly won three metre synchronised gold in the first-ever British mixed gender diving event.
18-year-old Grace and 17-year-old James scored 267.72 to win the competition in Plymouth, England.
Mixed competitions were allowed by the sport's international governing body, Fina, in November 2014.
Reid said "It's really different competing with a male to a female, but it's exciting."
Heatly added; "There are obvious physical differences and I have to hold back a little bit, plus the we usually do different dives but it was a great experience."
Watch more Newsround videos