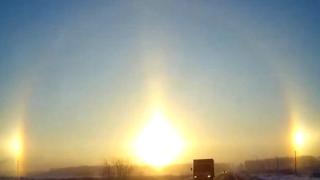 Anyuza Aybasheva/YouTube
People living in the Russian city of Chelyabinsk had a bit of a shock this week when they woke up to what appeared to be three suns appearing over the horizon.
But it was a trick of the light and not real.
According to a local meteorologist, the "halo" effect was caused by ice crystals in the air bending the sunlight.
The crystals, which are too tiny to see with our eyes, were the product of a cold morning, with temperatures around -25C.
Lots of people shared photos of the sight on social media.