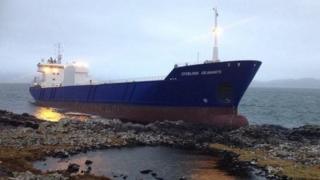 Fraser Tough
A large cargo ship is stranded in the West Highlands. It got stuck in sand and on rocks near Ardnamurchan Point.
No-one was injured. The ship -travelling from Belfast to Skogn in Norway - did not refloat at high tide.
Tug boats will now be used to try to free it.
The 120m-long Lysblink Seaways vessel was carrying paper waste.
It's not in any danger of sinking or falling over.
The coastguard says it's likely to be stuck there for some time.
The Tobermory RNLI Lifeboat team is on stand-by in case of any problems.
There have been no reports of pollution.