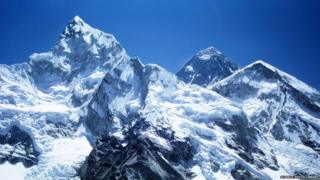 Science Photo Library
Mountaineers who want to get to the top of the highest mountain in the world will have to go up a new route this year.
Mount Everest in Nepal is nearly 9,000m high.
It's one of the world's most difficult challenges.
But because it's so tough, it can also be potentially dangerous.
Last year 16 Sherpa guides died in an avalanche on the mountain.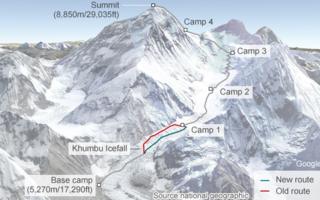 Now a new route's been drawn up by the government in Nepal.
They think is safer and less likely to be see avalanches.
The new route avoids the section where last year's accident happened - the left side of the Khumbu Icefall.
It's actually the route that was used 20 years ago. But it was changed to make the climb shorter and easier.
So even though it's longer and harder, the new route is thought to be much safer.
The change has been made ahead of the 2015 climbing season. Ropes and ladders will be put in place before people start the challenge.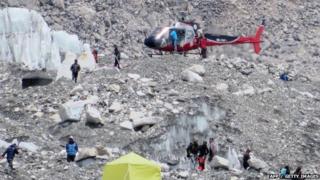 AFP / Getty Images
The safety of climbing Mount Everest has been talked about for a long time.
Since it was first scaled in 1953, 250 people have died while trying to get to the top.
After the avalanche in 2014, many of the Sherpas that guide people protested - they called for the government to make it safer.
Groups who run expeditions to the top of Everest agree that changing the route is a good idea.