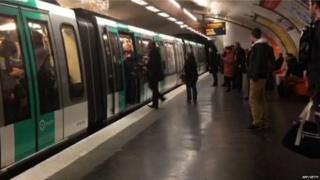 AFP/Getty
Chelsea football club has suspended three people from going to Stamford Bridge matches until an investigation into racial abuse in Paris is completed.
It follows a video that appeared to show some fans stopping a black man from getting onto a metro train ahead of their game against PSG earlier this week.
The club says the behaviour is ''disgusting'' and ''pathetic''.
The group also chanted racist abuse.
The men haven't been named.
Police in London and the club are continuing to investigate. Chelsea says life bans could be brought in if there is sufficient evidence.
The footage was taken by a British man who was on the platform on the time.
The Guardian newspaper reported it was filmed before Chelsea's match.
In the film, a man tries to get on board a busy metro train.
A voice can be heard chanting: "Chelsea, Chelsea, Chelsea."
A group of people already on board, stop him from getting on, pushing him back.
They can be heard chanting "We're racist, we're racist and that's the way we like it."
Paul Nolan, who filmed what happened on his phone, said it was "very aggressive."