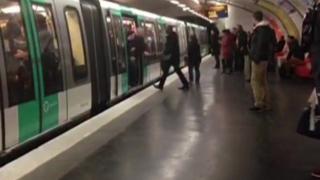 Chelsea to investigate Paris abuse
Chelsea football club say the behaviour of a group of their fans, filmed racially abusing a man in Paris, is disgusting.
The group were filmed stopping a black man getting on board a metro train. They were also chanting racist abuse.
Police in London say they are investigating and will try to identify the men from the video.
The footage was taken by a British man who was on the platform on the time.
The police have said they are taking the footage very seriously, and would help French police identify those involved.
A spokesman for Chelsea said, "Should evidence point to the involvement of Chelsea season ticket holders or members of the club, we will take the strongest possible action against them including banning orders."