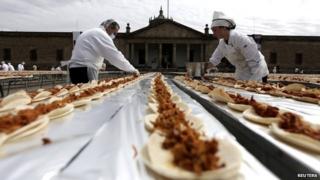 Mexican chefs break food record
Chefs in Guadalajara in Mexico have broken a world record by making a line of tacos nearly two miles long.
The team of 130 busy cooks made the row measuring in at 2757.6 metres over the course of 6 hours.
The tacos, which are a Mexican speciality, traditionally involve small tortillas filled with meat.
Once the record was confirmed by officials, the tacos were given away to lucky members of the public...we hope they were hungry!