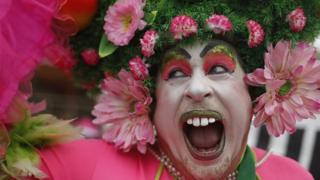 Colourful carnival kicks off in Brazil
It's carnival season in Rio de Janeiro, Brazil, and huge crowds of people have paraded through the streets in colourful costumes.
Around this time of year hundreds of street parades take place all over the city, with many of the people involved wearing giant stilts.
This is all part of the build up to the official Rio parades, which take place over two days in the Sambadrome.
BBC reporter Julia Carneiro spoke to one of the stilt walkers to find out why they have taken part.
Watch more Newsround videos