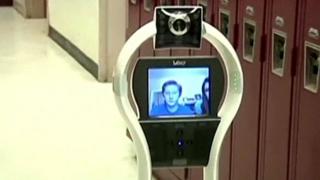 The robot who goes to school
A robot has been going to a school in New York State, USA, to help a boy who is to ill to go, so he can keep up with his schoolwork.
Twelve-year-old A.J. became very poorly with headaches last summer, and has been off school getting better ever since.
He was worried about missing out on so much school, so his teachers suggested that he use a robot, that he could control from home, so that he doesn't feel like he is missing out.
Everyday the robot goes to all of A.J.'s classes for him, and allows him to join in with lessons like he normally would.
The robot uses a camera and microphone, meaning A.J. can see, hear and speak through the robot.
His teacher said that the robot has gone down really well with the rest of the school.