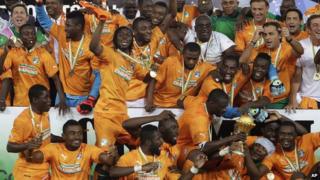 AP
Ivory Coast's football team has been rewarded with millions of dollars in prizes by the country's government for winning the Africa Cup of Nations.
Ivorian President Alassane Ouattara is giving each member of the 23-man squad a house worth £34,000 and the same amount in cash, the government says.
The team, captained by Man City midfielder Yaya Toure, beat Ghana's Black Stars 9-8 on penalties in the tournament's final in Equatorial Guinea.
Supporters came out in their thousands in Abidjan on Monday as the Ivory Coast team returned home and held a parade following their win.Huge crowds saw the team's aeroplane arrive and lined a 15-kilometre route to the city centre.
The Ivory Coast's president, Alassane Ouattara, also joined in with the celebrations.

AFP/getty images
Having been runners-up in 2006 and 2012, the Ivory Coast took the African title for a second time.
Their first success came in Senegal in 1992 when, again, they beat Ghana on penalties.