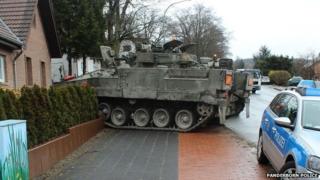 Panderborn police
A British tank has crashed into an elderly couple's garden in Germany.
The Army said the tank accidentally swerved into the garden because a bolt had come loose inside it. No-one was hurt in the crash though.
The tank belongs to a military driving school not far away.
The couple's granddaughter said she rushed to their house and found: "a tank in the middle of the hedge and soldiers everywhere, and our dog was barking furiously."
The Ministry of Defence confirmed that nobody was hurt in the crash.