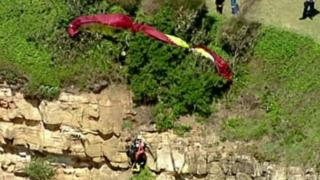 Paraglider rescued from cliff face
A paraglider in Sydney, Australia, was left hanging from the Mona Vale cliff after she crashed into the rock face.
The rescue team had to abseil down to where she as hanging, around 20m up, and then lower her down to the beach.
She was left with no injuries and the rescue team said the operation took no time at all.
BBC reporter Verity Wilde sent this report.
Watch more Newsround videos