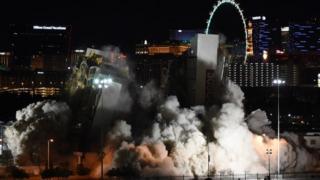 Demolition blast fails to destroy lift
A lift shaft at a hotel in Las Vegas, USA, has survived a huge blast designed to bring down the building.
Most of the Clarion hotel was brought down by the demolition on Tuesday morning.
But despite nearly 2 tonnes of explosives, the lift shaft was still standing when the dust settled - but it was leaning to one side.
Watch more Newsround videos