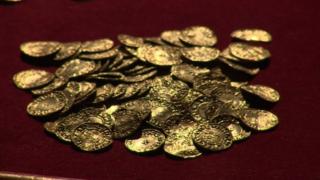 Treasure hunter finds amazing haul
A man from Buckinghamshire has discovered thousands of ancient coins buried in the ground.
Using his trusty metal detector, Paul Coleman dug up an old bucket which was full of silver coins around a thousand years old.
In total Paul found around 5,200 of the old coins, which are worth over a million pounds in today's money.
Now, the coins are now going on display at the British Museum, and historians want to find out more about who hid them all those years ago.
Watch Jenny's report.
Watch more Newsround videos