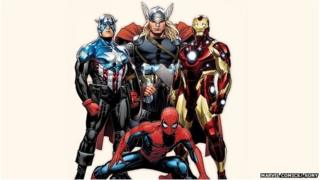 Marvel Comics/ Sony
Spider-Man could soon be swinging into action with Thor and Captain America.
Sony Pictures Entertainment, who made the Spider-Man films, have signed a deal with Marvel Studios, which means the masked hero will appear in a yet-to-be-decided Marvel film.
Under the new deal Spider-Man could be fighting crime alongside the likes of Iron-man and the Hulk.
It also means your favourite Marvel characters could cross-over and appear in new Spider-Man films as well.
However, the deal doesn't mean that Sony Pictures will be completely giving up the film rights to Spider-Man.
Spider-Man has been a main character in the Marvel comic books for 50 years.
The next Spider-Man film will hit cinema screens in 2017.