A rugby team in Belgium has set an astonishing new record for the biggest defeat ever after losing by 356 points to three.
The team, called Soignies, conceded 56 tries and 38 conversions in their game against Royal Kituro.
But the Belgian side say there were good reasons why they were on the wrong end of such a hammering as half their team had gone home after the kick off to the match was delayed.
Problems
The problems started for Soignies when the referee was over an hour late for the match.
By that time the Soignies team's coach and most of the players had left the pitch, thinking that the game was off. But once the referee did eventually turn up he insisted the game go ahead.
Soignies were told they would be docked points if they didn't take part in the game and so the remaining players took the field to avoid that happening.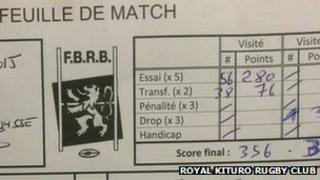 Royal Kituro Rugby Club
But, in protest at being forced to play in such circumstances, the Soignies players didn't really try and that meant Royal Kituro racked up the highest score ever recorded.
The president of the Soignies club, Guy Calomme said the result was "catastrophic", while a Kituro spokeswoman said Soignies "didn't really play".
Despite Royal Kituro's epic victory over Soignies, the losers still sit above the Kituro in the league by one point.
Soignies sit in third place in the league table, although they now have a points difference of minus 264!