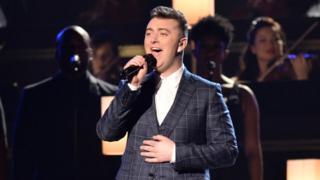 Music teacher 'proud' of Sam Smith
British soul singer Sam Smith has won four Grammy Awards in the US, including the prestigious prizes for record and song of the year and best new artist.
He was rewarded for being the only solo artist to sell more than one million albums in both the UK and US in 2014.
Now the star's childhood music teacher, Joanna Eden, has said she ''shed a few tears'' at his success.
Watch more Newsround videos