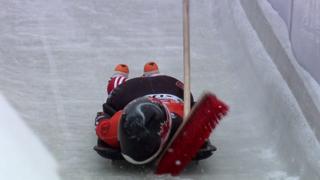 Hit in the face with a brush at 20mph
Canada's Jane Channell hit an unexpected obstacle during her first run in the Skeleton European Championship in Igls, Austria.
Officials were sweeping the track regularly due to the snow, but during the opening round Channell collided with a brush, which had been left behind.
Channell was unhurt in the incident and was allowed a second run.
She finished the competition in eleventh place.
Watch more Newsround videos