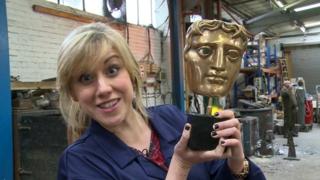 How Bafta award trophies are made
The Baftas, the biggest awards in British film and TV, were given out on Sunday night in London.
Bafta stands for British Academy of Film and Television Arts.
The Lego Movie was one of the lucky winners on the night picking up the award for best animated film.
The famous mask trophies are made at a factory in Middlesex, south-east England.
An individual mould is created for every mask, before molten bronze is poured in and left to set.
Each trophy weighs roughly the same as three bags of sugar and takes about three hours to complete.
Watch Jenny's behind-the-scenes report.
Watch more Newsround videos