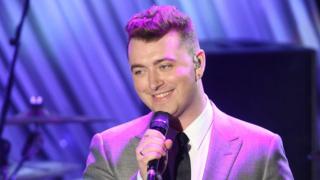 Sam Smith 'overwhelmed' by Grammys
Sam Smith has called preparing for the Grammy Awards an "un-human experience".
He's performing at America's biggest music awards show in Los Angeles on Sunday night, where he's up for six prizes.
Sam said: "I just feel very overwhelmed and I'm just trying to concentrate on not to trip on stage - not that I'm doing much dancing!"
He is the first British male artist to be nominated for all of the 'big four' prizes - record of the year and song of the year (both for Stay With Me), album of the year (for In The Lonely Hour), and best new artist.
Watch the clip to hear from Sam, as well as Ariana Grande, and Lady Gaga and Tony Bennett.
Watch more Newsround videos