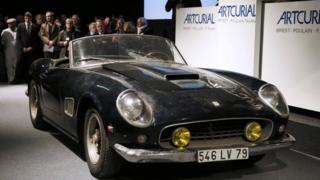 Rare Ferrari sells for £10 million
A super rare Ferrari sports car has been sold for a whopping £10 million at an auction.
The blue California Spider is one of only 37 ever made.
Amazingly, it was found rusting away under a pile of old magazines in a farmhouse in France.
It had been forgotten about for more than 50 years.
The new owner's identity hasn't been revealed but we reckon they will be taking a bit more care of it!
Watch Martin's clip for more.
Watch more Newsround videos