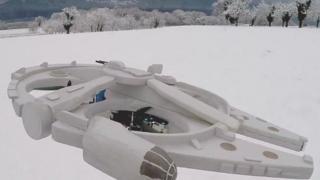 Star Wars fan makes Falcon drone
A Star Wars fan has taken his love of the sci-fi movies to another level - by building his own Millennium Falcon drone!
The legendary starship has played a role in some of the Rebel Alliance's greatest victories over the Empire.
Olivier Chapuis, from Grenoble in France, made his mini version by adapting a quadcopter with a carbon and aluminium frame.
He filmed himself flying the remote-controlled drone in the snow.
Watch the clip to see it in action.
Pictures from Olivier Chapuis/Viral Hog.
Watch more Newsround videos