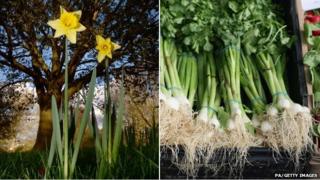 PA/getty images
Can you tell the difference between a daffodil and a vegetable?
It seems as though not everyone can.
Health officials are asking shops and supermarkets to keep daffodils away from fruit and vegetables.
They're worried people might confuse daffodil bulbs with onions, or daffodil stems with Chinese vegetables.
Daffodils contain toxic chemicals which can cause vomiting if eaten.