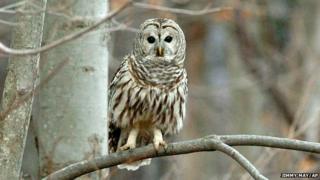 Jimmy May/AP
Signs have been put up around a park in America warning people to hold onto their hats because a crafty owl keeps stealing them.
The bird in question lives near Bush's Pasture Park, in the US state of Oregon, and is thought to have swooped and taken four people's hats off their heads in a month.
One of the victims, Brad Hillard, said: "It was kind of amazing how it just swooped down and grabbed my hat like that"
Conservation experts think the owl might be a 'Barred owl', and that it might be pinching people's hats to make a nest.
No-one has been seriously hurt by the owl, and the park superintendents say they had never heard of anything like this happening before.