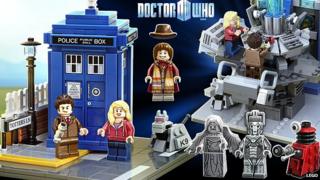 Lego
Lego have announced plans to make a special Doctor Who set after the idea was sent in to them by a fan.
The company have had huge success with other themed sets, such as Harry Potter and Star Wars, in recent years and asked people to suggest what they'd like to see next on their website.
A Doctor Who fanatic suggested figures and characters based on the famous time lord and the company will now start making them later this year.
Which Doctor?
The successful idea, which was sent to Lego's website, included plans for a Tardis and figures including current Doctor Peter Capaldi and the previous one David Tennant.
Lego have yet to reveal exactly what will feature within the set.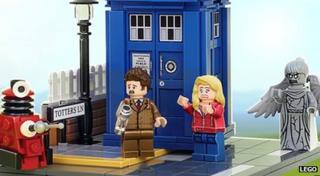 Lego
Wall-E too
Along with the Doctor Who set, Lego also announced plans for a new design based on Pixar animation Wall-E.
Emma Owen, from Lego, said: "We're extremely excited to announce that a Doctor Who and a Wall-E set will be released as our next Lego Ideas fan based sets, congratulations to the designers Andrew Clark and Angus MacLane!
"After receiving over 10,000 votes from the online community and having gone through rigorous toy testing from our expert panel, these awesome sets are on track to be on shelves later this year."