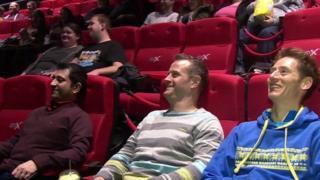 UK's first 4D cinema
The UK's first 4D cinema is being unveiled in Milton Keynes.
The special cinema has been fitted with seats which shake and water jets that spray you, to mimic what is happening in the film you are watching.
As well as this, operators can pump different smells into the cinema, like the scent of flowers or coffee, which have been designed to bring the audience closer to the action.
4D cinemas are not a new invention, and were first launched in South Korea in 2009.
Since then around 150 of the special cinemas have been installed in around 30 different countries around the world.
Martin checks this one out for us...
Watch more Newsround videos