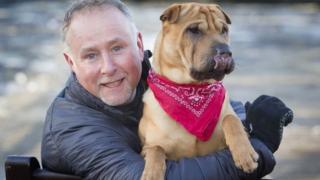 New owner for abandoned dog Kai
Kai, the Sher-Pei crossbreed, who was abandoned at a Scottish train station with his suitcase, has a new owner.
Last month, three-year-old Kai was left at Ayr station in Scotland, with all his belongings stuffed in his own little bag.
Kai became a superstar overnight - his picture was beamed all over the world and hundreds of people volunteered to take him in.
Offers came from as far away as America, France, Spain and even the Philippines.
Now Kai's new owner has been named as Ian Russell, an engineer from East Renfrewshire.
Newsround even managed to get an exclusive interview with the dog himself!
Watch more Newsround videos