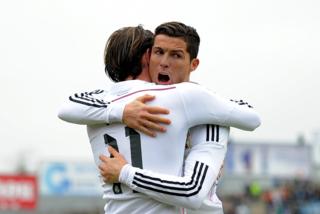 Ronaldo worth more than £700 million?
Cristiano Ronaldo's agent thinks the Real Madrid star is worth 1 BILLION euros - which works out more that 700 million pounds!
Jorge Mendes represents some of the biggest footballers on the planet like Radamel Falcao and Angel Di Maria - and thinks a team would pay £300 million for the former Manchester United forward.
He also told the BBC's Dan Roan that Ronaldo was "the best sportsman ever".
"He is the best player ever in the world. You can't compare him with anybody else," he said. You can see part of his interview in the clip above.
Watch more Newsround videos