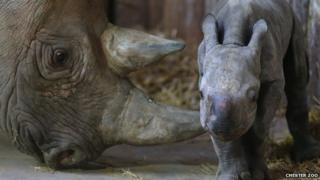 Chester Zoo
This cute little baby rhino has just been born at Chester Zoo.
Zookeepers have named the little rhino Fara, which mean 'lovely' or 'joyful' in African-Hausa.
Eastern black rhinos are critically endangered in the wild, and there are only around 650 of them left.
The rhinos are being hunted by illegal poachers who try to sell their horns.
The zookeepers said that both Fara and her mum were doing well, and are spending lots of time together.