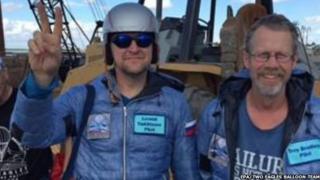 Record-breaking balloonists land in sea
Two pilots in a helium balloon have completed their crossing of the Pacific Ocean with a sea landing off Mexico, setting new records on a six-day trip.
American Troy Bradley and Russian Leonid Tiukhtyaev landed safely, their Two Eagles Balloon team said.
They claim to have beaten the world distance and duration records by flying for more than 137 hours and travelling more than 5,209 miles.
The two men set off from Japan last Sunday.
They had aimed to land in America or Canada, but weather conditions forced them to change their route and fly south.