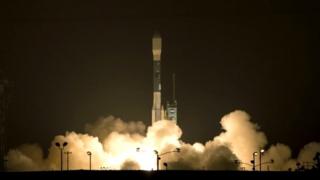 Nasa launch to study soil moisture
Nasa has launched an Earth-observing satellite, which will measure the amount of moisture in soil.
The Delta 2 rocket launched from Vandenberg Air Force Base in California, USA.
Nasa hopes the data collected from the three-year mission will help scientists to monitor droughts and improve flood forecasts.
The Soil Moisture Active Passive (SMAP) observatory's instruments will be turned on 11 days after launch.
Watch more Newsround videos