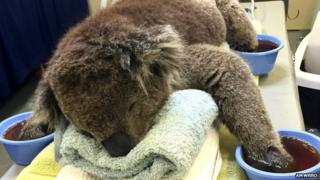 AMWRRO
A young koala whose paws were burnt in the recent Australian bush fires has made a full recovery.
The animal was brought into a rescue centre in Port Melbourne, where he was treated with a special medicine to help heal his burnt paws.
The staff at the treatment centre named him Jeremy, after the rescue volunteer who brought him in.
One of the team who helped to treat Jeremy, said that he was a "big grumpy bum" at first.
However, after he got used to the staff, they realised he had a "big heart".
Jeremy has now been released back into the wild after making a full recovery.