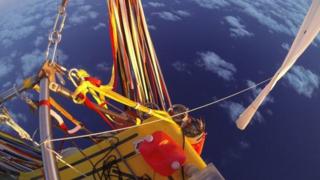 Helium balloon flight record broken
Two pilots have broken the world record for the longest distance flown in a helium balloon.
American Troy Bradley and Russian Leonid Tiukhtyaev are currently crossing the Pacific Ocean in their Two Eagles balloon.
On Thursday, the team had clocked up a new record of 5,261 miles - beating the previous record of 5,208 miles, which was set back in 1981.
They set off from Japan on Sunday and are currently heading towards Mexico, where they're due to land on Saturday.
They had aimed to land in America or Canada, but weather conditions have forced them to change their route.
The pair are also hoping to set a new duration record. At the moment it stands at 137 hours, 5 minutes and 50 seconds.
Watch Ayshah's report.
Watch more Newsround videos