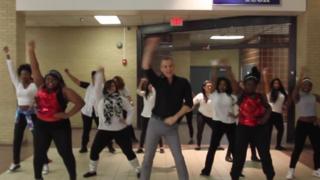 Uptown Funk school video goes viral
An American school's dance video tribute to Mark Ronson and Bruno Mars' number one hit Uptown Funk has gone viral.
It's racked up more than seven million YouTube views in less than a week!
The video sees theatre arts teacher Scot Pankey dancing through the corridors with his students at A. Maceo Smith New Tech High School in Dallas.
Mr. Pankey said he wanted to do something fun after Christmas.
He got all six of his classes involved and they rehearsed for about two weeks.
Believe it or not - they filmed the video in one take!
It's even had approval from Bruno Mars. "I cried at the end," the singer wrote online. "Thank you to everyone involved in making this video."
Watch a clip from the video.
Pictures courtesy of Scot Pankey/A. Maceo Smith New Tech High School
Watch more Newsround videos