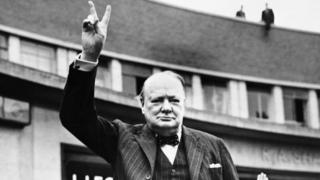 AFP
He's one of the most famous Britons of the 20th Century and led the country during the Second World War.
He's a hero to many and his speeches are some of the most famous in history - there's even a statue of him outside Parliament.
He's credited as being one of the driving forces that inspired the UK to keep fighting against Nazi Germany.
But he also suffered with mental health problems and was a complicated person who said and did things that many people today don't like.
Why was Churchill so important?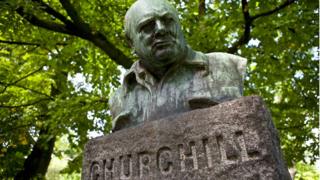 Getty Images
Winston Churchill was born in 1874. He became a Member of Parliament (MP) in 1900.
He was British prime minister from 1940-1945 and again between 1951 and 1955.
Churchill is best remembered for successfully leading Britain through World War Two.
He was famous for his inspiring speeches, and for his refusal to give in, even when things were going badly.
Many people consider him the greatest Briton of all time and he's almost certainly the most famous British prime minister.
Fighting the Nazis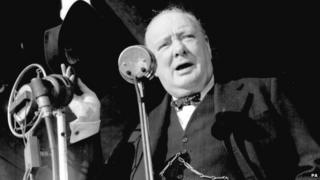 PA
Before World War Two started in 1939, he had warned about the rise of Hitler and the Nazis in Germany.
He became British prime minister in 1940 after then-leader Neville Chamberlain resigned.
Churchill's refusal to surrender to Nazi Germany inspired the country.
Churchill lost power after World War Two ended in 1945.
But he became prime minister again in 1951, before resigning four years later.
Mental Health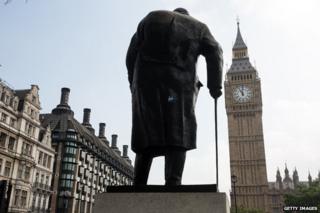 Getty Images
For many people Winston Churchill was the greatest prime minister of all time, yet he was often deeply troubled. He lived with bouts of depression throughout his life.
Churchill called his depression 'the black dog'.
His good friend Lord Beaverbrook said Churchill was always either 'at the top of the wheel of confidence or at the bottom of an intense depression.'
Controversy
Some of things that Churchill said seem controversial today and there are many debates about some of the things he did.
Some experts say he believed that some countries and races were naturally superior to others. In 1937 he said "I do not admit for instance, that a great wrong has been done to the Red Indians of America or the black people of Australia. I do not admit that a wrong has been done to these people by the fact that a stronger race, a higher-grade race, a more worldly wise race to put it that way, has come in and taken their place."
Others say that it's unfair to judge him by attitudes and beliefs we hold today and that many of his views were held by many other people at the time.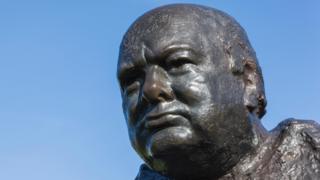 ALAMY
He had very strong views about the British relationship with India and was opposed to self-rule. He also considered Ghandi a threat to the British Empire.
He is accused of not doing enough to prevent during a famine in the region of Bengal, in south east Asia in which millions of people are thought to have died.
This happened in 1943, during World War Two, and some experts say his focus was on fighting the war in Europe and that when he became aware of the true seriousness what was happening, he ordered grain to be sent there.
He also has a negative reputation for the way he dealt with Unions and workers rights, mainly after sending the army in to stop riots following strikes in Tonypandy in South Wales.
Funeral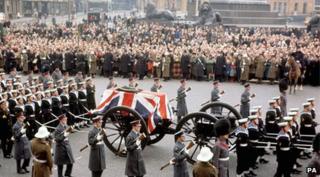 PA
Churchill died on 24 January 1965 and was given a state funeral, an honour saved only for kings and queens, and sometimes other people of the highest national importance.
Churchill's funeral was the last state funeral held in Britain.