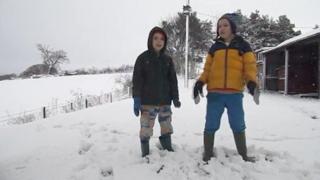 Dyan and Fergus in snowy Cumbria
Snow has carpeted much of the northern UK.
Amber "be prepared" weather warnings for heavy snow are still in place across most of Scotland, Northern Ireland and northern England.
Hundreds of schools are closed because of the wintry weather.
Dylan and Fergus sent us this report from Cumbria!
Watch more Newsround videos