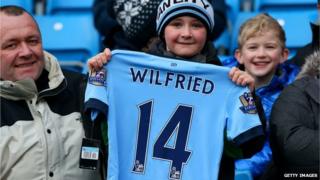 Getty Images
The January transfer window doesn't close - it 'slams' shut!
Well that's what footy commentators say anyway. Either way, as of 11pm today, clubs won't be able to sign players until the summer.
So with the clock ticking, who would you like your favourite team to sign?
Maybe you need a sharp-shooting centre forward to bag you some goals? Or a tough defender to stop the team leaking goals? We want suggestions for who - and we want you to name them!
Guide: Transfer deals - January 2015
So far, it's been a bit quiet on the transfer front.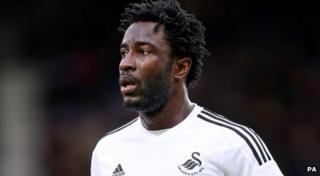 PA
Wilfried Bony has moved from Swansea to Manchester City for a cool £28 million, and the Swans have signed three players to replace him.

Liverpool legend Stevie G is quitting the Premier League for a move to America, with LA Galaxy.

But apart from that, the big moves are still to come.
Maybe you'd like your team to sign Manchester United's Darren Fletcher? He's available for free.
Maybe you want your team to give Mario Balotelli another chance? He's not really done the business at Liverpool.
This chat page is now closed.
Your comments
I would like Messi to go to Man City.
Jake, Sheffield, England
I think West Brom should sign Diego Forlan for a striking boost if Berahino goes.
Fergus, Cambridge, England
I think Liverpool should sign Cristiano Ronaldo from Real Madrid.
Marcus, Thornton, England
Bristol City should sign Ronaldo!
Bertie, Bath, England
Aston Villa should sign Demba Ba because we need a huge amount of goals and he is the man to do it!
Dominic, United Kingdom
I think Liverpool should sign Real Madrid's Isco.
Ben, Portsmouth, England
Liverpool should sign Marco Reus because he is so quick and an amazing dribbler. Plus, he is a goal scorer and that is what Liverpool need at the moment.
James, Formby, England
I would like Neymar to go to Queens Park Rangers because they're number one!
Frank, Luton, England
I think Liverpool should sign Manuel Neuer and Alexis Sanchez.
Hrishi, Keighley, England
Arsenal desperately need a defensive midfielder or a centre back. If we don't get one then we can't qualify for the UEFA Champions League.
Ayomide, Cardiff, Wales
I think West Brom should sign Demarai Gray from Birmingham City because he is young and talented with the ball.
Kai, Ilkeston, England
I think Swindon Town should sign Yaya Toure because he is good at shooting from long ranges and dribbling.
David, Swindon, England