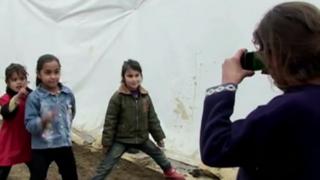 Syrian kids photograph their lives
Hundreds of Syrian children have been given cameras to take photographs of their lives.
The children are currently living in refugee camps in Lebanon, after fleeing their homes in Syria to escape the fighting that is currently taking place there.
Each of the 500 children was given a camera, as part of a project organised by two charities, and asked to take photographs that show what their life is like now.
An exhibition has been organised to show the best photographs.
Watch the clip to hear two of the children who took part speak about their experience.
Watch more Newsround videos