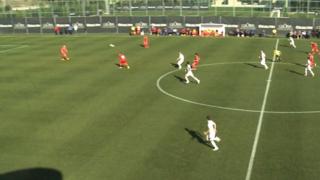 Five-second goal from half-way line!
Watch as Julian Koch scores an amazing goal from the half-way line for German side FC St Pauli just five seconds after the opposition kick off.
The wondergoals was during a friendly match against Swiss club FC Winterthur.
The player was lucky that the officials didn't spot that he was inside the centre circle before FC Winterthur had kicked off.
Pictures courtesy of fcstpauli.tv
Watch more Newsround videos