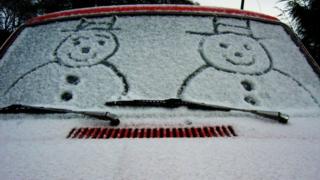 Amber weather warnings are in place for heavy snow across most of Scotland, Northern Ireland and northern England.
Snow is already affecting parts of northern Scotland and will head southwards during Wednesday.
More than 5cm is expected at lower levels but there could be as much as 15cm on higher ground.
BBC weather expert Simon King told Newsround: "With the cold air really digging in there is a chance of 5-10cm falling and settling at low levels."
The weather forecasters at the Met Office said: "The public should be prepared for travel disruption and hazardous driving conditions."
Has it snowed near you?
Is your street covered in snow? Does your garden look like a winter wonderland?
Send your photos or short videos to newsroundpix@bbc.co.uk - and include your name and where you're from.
You must ask your parent, teacher or guardian for permission before you send us a picture or video. Please also include a contact phone number so that we can speak to them.
We may show your picture or video on our website or in our TV bulletins. We'll show your first name and which town you're from - but we won't use your details for anything else.