Heavy snow has caused big problems for many northern parts of the UK.
Yellow "be aware" weather warnings for snow remain in place across the UK and more snow is forecast in Scotland and Northern Ireland in the coming days.
Hundreds of schools have been closed because of the wintry weather.
The snow and ice caused hazardous conditions on many roads for drivers. Manchester Airport in north west England was closed for several hours and flights suspended.
Get Involved: Send us your snow pics!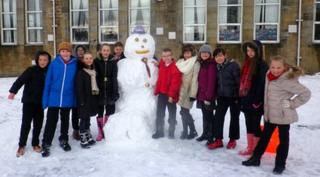 UGC
The weather forecasters at the Met Office said: "The public should be prepared for travel disruption and hazardous driving conditions."
Many areas feel bitterly cold, because of what's called the wind chill effect - where high winds make it seem several degrees colder than it actually is.
Jet stream
The wintry weather is linked to the major snowstorm which has hit Boston and the north eastern states of America - though we won't see anything like as much snow in the UK.
Experts say that we're on the other side of what's called a jet stream: this is where very mild air meets very cold air, creating very intense weather conditions.
The UK sits on the other side of the same jet stream.
Our air is coming from Greenland and Iceland - cold arctic air, but without the severe snow storm. Instead there'll be lots of snow showers, together with very strong winds.