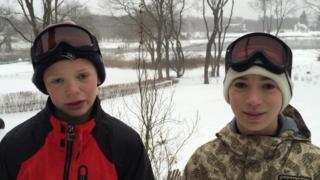 Blizzards shut down parts of USA
New York City and other areas in the north-east US have shut down, with forecasters warning residents to expect "crippling" amounts of snow.
Forecasters say Winter Storm Juno could dump over 75cm in some parts of New Jersey, Maine and New Hampshire.
Boston, which is seeing some of the heaviest snowfall, has stopped public transport and car travel.
Up to 60 million people are thought to be affected by the bad weather.
Businesses and schools closed early on Monday with many not expected to reopen before Wednesday at the earliest.
Jake and Ben are two friends who live in Rhode Island in the USA, and they told us what the weather was like where they live.
Watch more Newsround videos