New York City has escaped the worst of the heavy snowfall that's hitting much of America's east coast states.
Earlier travel bans there have been lifted, as not as much snow fell as some had feared.
Up to 60cm of snow was still expected in places across New York state, Connecticut, Rhode Island, Massachusetts and New Hampshire.
Boston, which is seeing some of the heaviest snowfall, has stopped public transport and car travel.
Up to 60 million people are thought to be affected by the bad weather.
New York, Boston and other US cities had shut down on Monday night, with travel bans in place on roads, subways closed and the public urged to stay indoors.
More than 7,500 flights in and out of airports along the East Coast have been cancelled since Monday, according to the website FlightAware.
Businesses and schools closed early on Monday with many not expected to reopen before Wednesday at the earliest.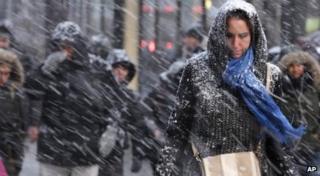 AP
'Matter of life and death'
Some parts of the north-east were spared the worst predictions of the weatherman. However, Boston has had a foot (30cm) of snow, and is expecting another foot in the next three hours.
Speaking to US TV station CNN, New York City Mayor Bill de Blasio defended the shutdown of the city: "This is a better-safe-than-sorry scenario.
"We did what was necessary to keep everyone safe."
The National Weather Service said the snow and strong winds would continue throughout Tuesday, before weakening overnight.
"In areas close to the immediate coastline... hurricane force wind gusts to near 120km/h (75mph) will be possible," the NWS said.