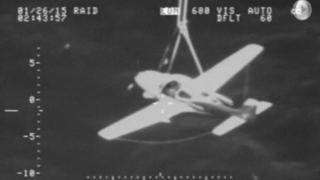 Splashdown as plane runs out of fuel
Dramatic footage has been released of the moment a pilot, whose plane was running out of fuel, survived after his plane landed in the ocean off Hawaii on Sunday.
The video, released by the US Coast Guard, shows how the pilot of the Cirrus SR-22 released a parachute when the plane propeller stopped moving in the air.
The man escaped the plane once it had fallen into the water and climbed into a life raft before he was picked up by a cruise ship, which had been called in to help by the Coast Guard.
The BBC's Arrun Soma sent this report.
Watch more Newsround videos